Welcome to Pat Carney Fine Art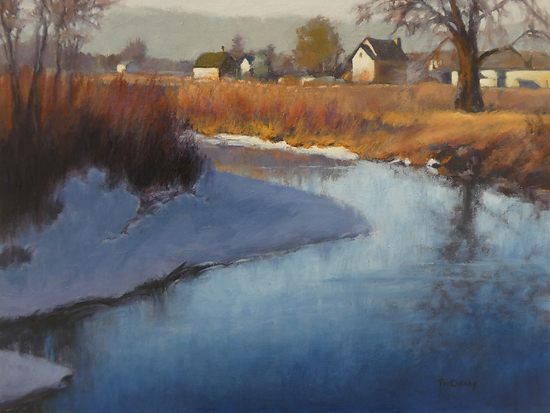 Four of my paintings, including "Evening Light," are included in the Twenty Third Annual Governor's Art Show at the Loveland Museum and Gallery. It is hosted by the Rotary Clubs of Fort Collins and Thompson Valley, and commissions from the sale of the art support the Rotary's efforts to bring free health care to underserved communities of the world.
The museum is located in downtown Loveland at 503 North Lincoln Avenue, and the show will be open from May 4 through June 14. There is a gala opening (tickets purchased in advance) May 3, at 5:30 pm and a paint out and live auction Sunday, May 4 from 9 am to 1 pm. For more information, see www.GovernorsArtShow.org.
Pat Carney is a representational painter who works in oils and watercolors both en plein-air and in the studio. Join us for a tour of her website. View her collections under Paintings. Sign up for her newsletter announcements about new works and upcoming events. Please feel free to add your own comments and/or to inquire about a purchase.








All art work on this website is the property of Pat Carney and is protected under United States and International copyright laws. The images may not be reproduced, stored, or manipulated without the written permission of the artist.